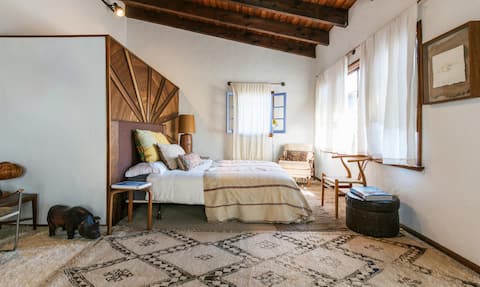 Вили за изнајмување во Sienna
Најдете и резервирајте уникатни вили на Airbnb
Највисоко оценети вили за изнајмување во Sienna
Гостите се едногласни: овие вили се високо оценети за локацијата, чистотата и друго.
Вила во Bělá pod Pradědem, Чешка
Mlýnky Jeseníky - цела куќа за 20 лица
Уникатно место, не само за семејства! Пространата вила ви нуди вкупно седум соби, секоја со сопствена бања, неколку заеднички простори, две кујни, трпезарија со бар, сала за вежбање, сауна и многу други места за различни активности. Раширената градина нуди големо игралиште со трамболина, простор за седење со скара и покриен паркинг за четири автомобили. За спортски активности во регионот, можете да носите скии и велосипеди, кои можете безбедно да ги чувате во пространа велосипедска/скијачка соба. Исто така, со задоволство ќе ви обезбедиме масажи!
5,0 (6)
Вила во Mikulovice, Чешка
Вила со џакузи, -10% за 7 дена!
Вила за 20 лица: 5 двокреветни соби, 1 спална соба со 10 душеци. Ако барате совршено место за семеен одмор, како во зима, така и во лето, би сакале да престојувате кај нас. Луксузна и модерно опремена вила со градина од 10 000 м2 и загреан базен. Ќе ви се допадне удобно да седите во дворот не само со утринско кафе со поглед на прекрасната шума и градината, туку и покрај базенот во текот на денот и навечер со звуците на природата. Паркинг 8-10 автомобили.
5,0 (23)
Вила во Božanov, Чешка
Luxury villa with sauna in the middle of nature
Chalupa Blije is a beautiful detached luxury holiday home with a sauna. The house is suitable for renting up to 8 people and has a living area of 135 m2. Chalupa Blije is located in the picturesque village of Božanov, in the middle of the Broumovsko nature conservation area. Characteristic in this area is the ridge Broumovské Steny with its unique jagged sandstone cliffs, vistas and viewpoints.
4,82 (11)
Изнајмување на сместувања за одмор за сечиј стил
Добијте го потребниот простор што ви одговара.
Популарни удобности во вили за изнајмување во Sienna
Приватни вили за изнајмување
Се гледаат 0 од 0 елемента
Вили за изнајмување со базен
Се гледаат 0 од 0 елемента